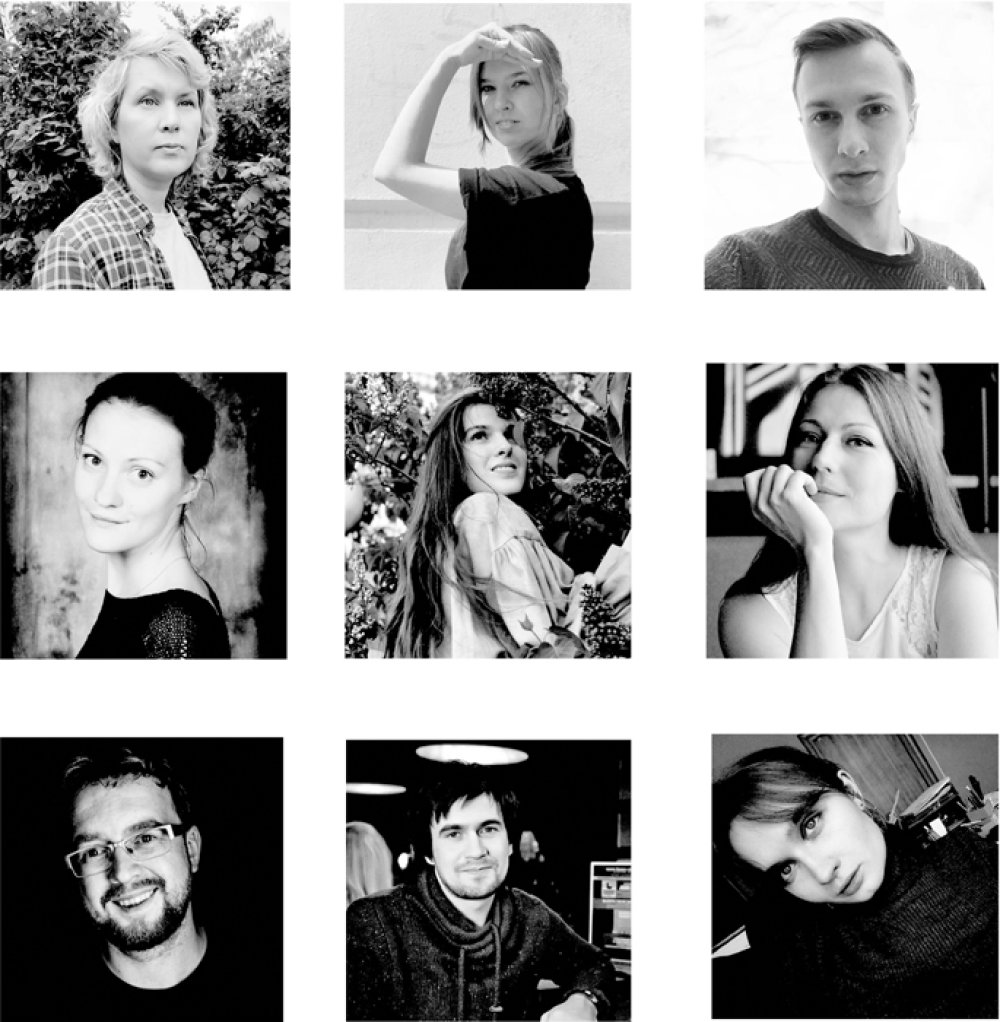 Dasha Griesa, Khimki
Dasha Griesa graduated from Lomonosov Moscow State University in 2020 with a degree in Foreign Philology. She is currently a postgraduate student at the Russian State University of Informatics and Communications (part-time department, workshop of N.S. Skorokhod, drama). She has volunteered for several theatre projects, including the Media Centre of the Dmitriy Brusnikin International Documentary Theatre Festival "BRUSFEST" in 2019. She is also a volunteer and photographer in the NET Festival Media Centre team. In addition, she has studied at the preparatory directorial courses at the VGIK and GITIS.
Ekaterina Zhmyrova, Tambov
Ekaterina Zhmyrova is a scriptwriter and playwright. She graduated from the scriptwriting faculty of VGIK. She has repeatedly become a prize-winner and finalist of different competitions and festivals, including "Eurasia", "Actors", "Voloshin's September", "Badenweiler", and others.
Maria Novikova, Yoshkar-Ola
Maria Novikova is a hospital clown, former assistant of Father Christmas, and former director of "Special Theatre" ("Special Theatre" is a project of "Zerkalo" Yoshkar-Ola, which aims to improve the quality of life of children with mental retardation). She is twice a student of Russian State Social University, writing. In June 2021, she was short-listed for the nineteenth international competition of playwrights "EURASIA-2021". The play "Sashka so clever..." was in the long-list of playwrights' competition "Little Remarque" in April.
Ivan Orlov, St. Petersburg
Ivan Orlov is a graduate of St. Petersburg State University (Theatre and Event Direction); a Master's student of RGISI (playwriting); a playwright, scriptwriter, and poet; and a song lyrics writer for Alexandra Elovskikh (participant of the show Golos-9).
Ulyana Petrova, Moscow
Ulyana Petrova is currently a student at the Russian State University of Theatre Studies (Department of Stage Management, Master of Arts in Theatre Design (drama)) from 2021 to 2023. Her favorite characters from her own texts are teenagers who try alcohol in unconventional ways. In August 2022, her play Marusya was included in the list of the independent playwrights' festival "Lyubimovka".
Vyacheslav Polushin, St. Petersburg
Vyacheslav Polushin is a student at the RGISI from 2021 to 2023 (Department of Stage Management, MA Production Design (Dramaturgy)). He is involved in building design, performing in theatre, and writing plays and scripts of various kinds. His creative biography includes being an actor of the Kumkuat Theatre from 2013 to November, an author and actor of the play-play "Poets' Avenue" (2021), and an author of scripts for commercial theatrical tours (Sochi, Istanbul).
Anna Rybalkina, St. Petersburg
Anna Rybalkina graduated from the Kazan Pedagogical Institute (Department of Foreign Languages) and is currently taking master's programme at the Russian State Institute of Cinematography (Theatre Design and Dramaturgy). She has worked in various fields, such as TV (news producer, scriptwriter), tourism (tour guide), naval exhibition (manager), and teaching creativity to children since 2005. Currently, she is doing online courses for children in screenwriting, storyboarding, and comics. She creates author comics and strips. Her achievements include a diploma for second place in the competition "Literary Petersburg in comics", organized by Bumkniga publishing house and Lenin Library, for the comic "If Pushkin had a beard".
Alexey Sinyayev, Ekaterinburg
Alexey Sinyayev graduated in 2018 from the Ekaterinburg State Theatre Institute as a literary worker in the field of playwriting. The course master was Honoured Art Worker of the Russian Federation, N.V. Kolyada. Since 2021, he has been studying at the Russian State Institute of Stage Art majoring in "Production Design," the direction of "Dramaturgy." He is a winner of the following competitions: Eurasia, Acts, Author's Stage, Culmination, New Ethno-theatre, Dramatists' Workshop, and the Asyl children's drama competition. He is also a winner of the "Lyubimovka", "Remarque", "Initial Event XXI century", and "Voloshinsky competition".
Maria Fomenko, St. Petersburg
Maria Fomenko graduated from SpbGATI in 2012. In 2015, she graduated from SpbKIT (faculty of Playwright). She has been a video artist at the theatre since 2017. Since 2021, she has worked at the Baltic House Festival Theatre.